Typically on Tattler Thursday I have a fantastic story of the random behaviors my epic children exhibit....but my work schedule has been changing the past few weeks, so I haven't seen the kiddos as much which means I don't have enough ammo...and I don't have any hilarious Thanksgiving stories either, so I am going to regale you with The Tradition of the Forgotten Child.
Growing up, I became "the forgotten child". Not intentionally, but it happened. My earliest memory (we're skipping the part where Dad left one of us at a McD's) of being forgotten took place in Preschool. It was field trip day and my Mommy was a chaperone! We were headed to the zoo and Mommy wore a black and white vertical striped dress. All of the parents were lined up against the chalkboard, and the teacher proceeded to call the children up into groups-the first ones called were the children of the chaperones. So I sat there waiting for my name to be called because my Mommy was a chaperone! And I sat there....and sat...and waited...until finally I lifted my head from the desk & looked around, only to hear, "Oh, I'm sorry, Michelle. I forgot about you!" And so it began.
Over the years, I've come to terms with being "forgotten" and at times, it has it benefits (like not having to do something). And now that I have children of my own, I've been waiting for the title to be passed on. And this week it was. And I had nothing to do with it!
Here's how my daughter's initiation into "the club" started: Wait...before I tell you this, you have to understand that there are SEVEN children in the house. Five of those attend school. One attends daycare. One stays home with the "adult of the day". Walking 6 kiddos to school and remembering to bring one back is a feat in itself. Thankfully, the distance is short.
Monday (yeah, it was aa Monday too. Alot of factors at play here) morning when the "adult of the day" returned from taking the kiddos to school (he had the 2yo in tow. High-five award right there!) the "adult of the day" heard water running in the bathroom, so he went to shut it off and discovered Amber washing her hands. Poor kid had no idea that she had been left behind. And I have no idea where she thought the rest of the kiddos were.
The tradition has been passed on.
So what's your Tattler Thursday tale?? Link up here!


Hiya Snappers! Welcome back to the 29th week of the Tattler Thursday Blog and Social Network Hop!


It's time to tattle and hop!
It's a share your crazy, gross, hilarious, in-the-trenches
parenthood stories,
or any tattle that you may want to share with us
, that has
nothing to do with kids, kind of blog hop! We love funny stories and we want to
hear yours! You don't have to have kids to participate!
Just
leave a comment
with your story, post not required! So
think of your funniest, wackiest or favorite stories, leave a comment with your story/tattle, follow your Hostesses
and Co-Hostesses, visit and discover other blogs, and have fun!
Remember the easiest way to get a follow back is to
like/follow other pages and leave a comment! So hop around, tell your friends
and share, share, share! This is a hop designed for you to have fun and share!
Happy Tattling!
Tweet about the Blog Hop HERE!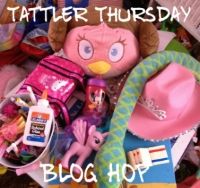 The Rules are:

1-

Follow Your

Host and Co-Hostesses
2-

Grab the button

and display it on your blog or hop page/section
3-

Leave a comment

with a funny, wacky, or gross kid story/tattle
*Be Sure to
Hop
over to other blogs and visit/network and share the Hop
*Have fun Hopping! (and come back next week!)
---
Your Hostesses